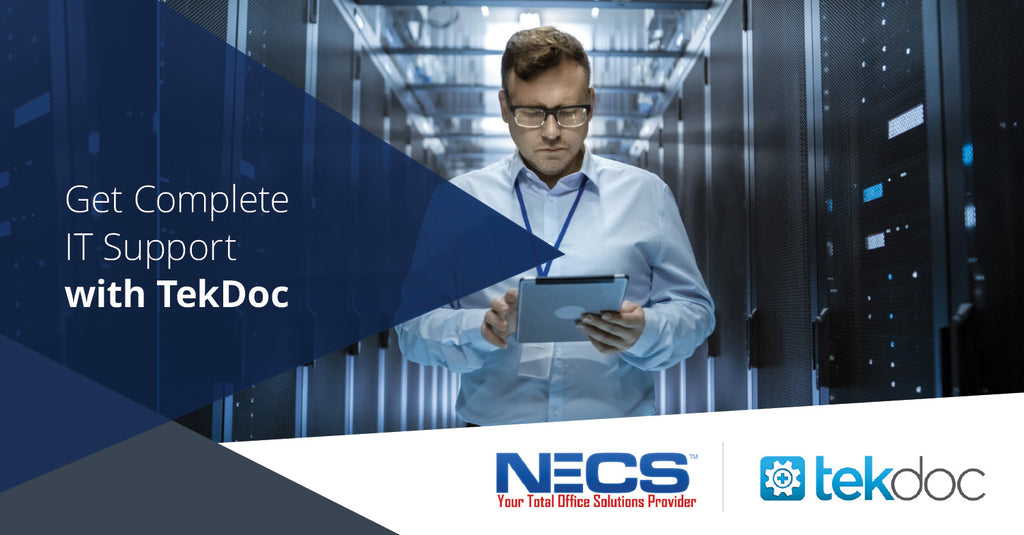 Introducing TekDoc and Their Services to Our Clients
June 29, 2023 | NECS
NECS is happy to welcome TekDoc to our team of strategic alliances. We are always looking for more bright and talented organizations to work with, and TekDoc has proven that they share in our desire to provide exceptional service to our clients. We would like to introduce our clients to both the TekDoc team and the many solutions and services that they provide.

About TekDoc:
TekDoc was founded in 2004 by their CEO, Brendon Johnson. He started the company out of his college dorm, setting out to help friends and family with all of their IT needs. Eventually, the company took off as Brendon began to branch out and offer his services to teams across Massachusetts and New Hampshire. They currently serve over 95 businesses of varying sizes, specializing in small businesses.
The TekDoc team offers many excellent IT services that strengthen and improve their clients' workflows. Those services include:
Outsourced IT Support

Cloud Computing Solutions

Cybersecurity Services

and Technical Services


They have gone on to align themselves with like-minded organizations, such as ours, to better deliver these services to clients. This allows them to reach new audiences while providing even better support to their current customers.
Get the IT Support Your Team Deserves
TekDoc offers a complete IT solution that supports businesses with their day-to-day network needs, including proactively monitoring and updating their systems while identifying, addressing, and resolving potential IT issues. This ensures that no attacks slip through unnoticed and keeps your valuable data safe. Their friendly and knowledgeable technicians provide detailed insight into your systems, while helping to keep your business running smoothly and minimizing the possibility of downtime.  
With their all-inclusive managed services, your team will get:
Server and Network Management

Remote and Onsite Support

Virtual CIO (vCIO) Services

24-Hour Help Desk Support

Email Services

Let's take a closer look at each of these services to showcase how they're specifically designed to keep your workflows moving productively and ensure optimal performance of your network!


Server and Network Management:
Your servers and network are the backbone of your organization. Each one of your files, important projects, and confidential information is stored in these systems. It's imperative that they're always kept secure. This can be challenging though, as team members are often so focused on their mission critical tasks that they won't always recognize when a problem crops up. That's where TekDoc comes in! Their team works full-time to proactively monitor your systems, test performance, close gaps in your security, and update and migrate your servers to boost uptime and efficiency.


Remote and Onsite Support:
With TekDoc's remote and onsite support services, your team will be getting a full-proof method of ensuring cybercriminals can't take down your system. Through their remote support services, they're able to run diagnoses and identify any potential vulnerabilities to help close the gaps in your system and prevent future attacks. Their onsite support protects your front-line network servers, making sure your team is back up and running with minimal downtime. Unlike other tech teams, TekDoc believes in including these services with their managed services package for one flat-fee, saving your team money!
 
Virtual CIO (vCIO) Services:
A vCIO is your go-to tech expert who will find new services, implement strong solutions, and help you plan for the future. They recognize the daily challenges that your team faces and will find better IT that suits your budget. The TekDoc team will create a unique roadmap for you, which is specially designed with your tech needs in mind.
 
24-Hour Help Desk Support:
Downtime can set teams back by completely derailing their productivity and focus. To keep this from happening, TekDoc offers 24/7 monitoring and support. Their team will work quickly with yours to resolve issues and reduce the risk of unwanted downtime.
 
Email Services:
Experiencing an influx of emails lately that you just can't seem to manage? TekDoc is here to get you through it! Their team will work to clean up your email server, save all your critical messages, and check through unread emails quicker. Their email services streamline your inbox by boosting its storage capability, all the while protecting your business's sensitive data.
These managed IT services are only the tip of the iceberg of everything that TekDoc offers! Their team is made up of technology experts who have expanded their knowledge to nearly every horizon, ensuring you get the best all-around tech support for your team.

Reach New Heights with TekDoc's Cloud Computing Services
More and more teams are turning to the cloud to support their daily tasks. Whether it's digitizing files or optimizing their print fleet with the latest devices equipped with cloud technology, there's no denying that the cloud offers many opportunities for better workflows to teams of all sizes. Choosing which cloud solutions to implement can be a challenging decision, and picking the wrong one could end up setting your team back rather than propelling them forward to the future. TekDoc helps to eliminate this stress by offering cloud services that are designed to scale and fit your growing needs.
When done right, cloud computing can optimize your workflow by providing specially tailored services that are designed to make the lives of your team members easier. This can include storing files, hosting solutions, Microsoft Office 365 applications, and internet phone solutions (VoIP).
TekDoc can take your team out of their workflow rut and help them reach their truest potential through cloud solutions.
Get the Best Cybersecurity
Protecting your business's data shouldn't be stressful for you. Each member of your team deserves to feel safe at all times. That's why TekDoc is here to offer you full-time support that will defend your business against impending cyber threats. TekDoc will provide multi-layer security that will safeguard your confidential data and ensure you meet compliance requirements.

Cybersecurity isn't a luxury, it's a necessity, and it's one that all teams should take seriously. TekDoc will help train your team in detecting phishing emails and other spam so that you can better defend your customers' confidential data. Their services help close the gaps in your defenses by monitoring and maintaining your security.
Their cybersecurity services provide your team with
Backup and Recovery
Compliance
Email Security
Computer and Network Security
Endpoint Protection
And Security Assessments

TekDoc believes in a more proactive approach to cybersecurity. In the past, businesses have treated IT support as a "break-fix" service. But the TekDoc team wants to break that cycle, emphasizing the need to set up safeguards against potential attacks rather than reacting to impending doom. Doing this keeps your team in the know about your IT situation, decreasing the risk for data loss and improving your overall security measures.
Technical Services that Work!
You shouldn't have to worry about your systems shutting down and breaking. With TekDoc, you can be sure that your systems will be actively monitored and repaired before any extended downtime is experienced. Their technical services also offer migration and deployment solutions, streamlining these processes for you by managing your new solutions and integrating them into new locations. They can also expand on your solutions to reach more employees at your current location.
NECS is Happy to Have TekDoc in Our Corner
Their many IT solutions and diverse expertise prove that TekDoc is experienced and ready to support NECS customers with all their tech service's needs. Our team is happy to welcome such a dynamic and hands-on team to our strategic alliances. With the addition of TekDoc's team, NECS can offer our customers added support and keep their data safe. 
Are you looking to better your IT services for your organization? The NECS and TekDoc team are happy to answer all your questions.
Let our teams help yours work more efficiently and securely. Contact us today!