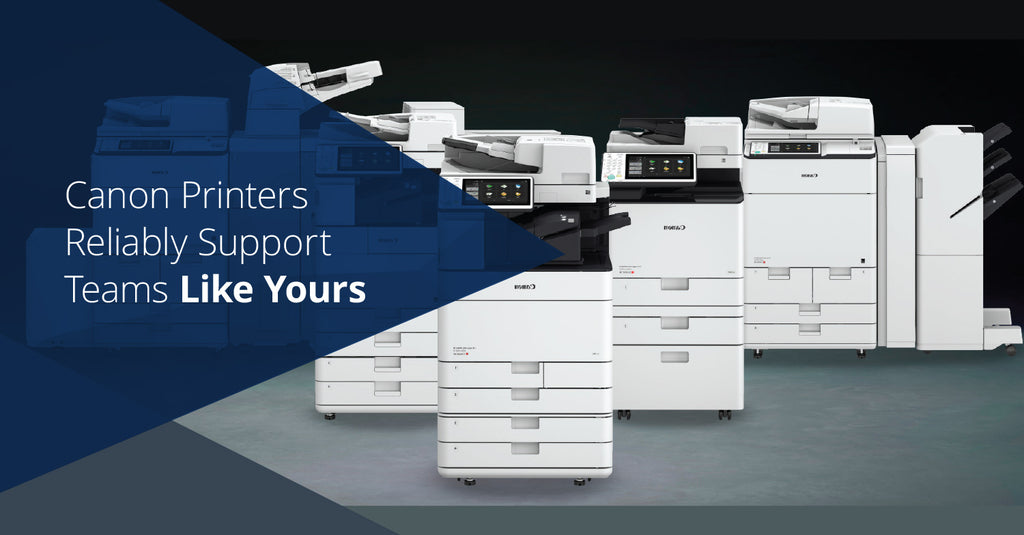 Why Canon Printers Are a Great Choice for Businesses
October 20, 2023 | NECS
Canon printers and copiers are known around the world for being some of the best on the market. Businesses everywhere trust these devices to not only get the job done quickly, but also reliably. For a company, reliability is everything.
Having technology you can count on means guaranteeing your team will be more productive and that downtime will be decreased. You will be able to make the most out of your day, as the right printer really does make all the difference.
To help team leaders make the best choices for their company, we've put together this blog on why Canon printers are a great choice for businesses.  

Canon Printers Have Award-Winning Technology
Canon technology has been closely looked over by Keypoint Intelligence, whose labs put printers through rigorous testing to ensure quality. For over 60 years, Keypoint Intelligence has been a trusted name in the technology industry. Their standards and research methods continue to adapt with the "rapidly changing markets" (Keypoint Intelligence), ensuring that all of their testing is up-to-date and meeting the newest requirements of workflows everywhere.
One of the brands that has continued to stand out among the rest is Canon. Among the awards they've received in the past, Canon was the recipient of the prestigious BLI 2022–2024 Most Reliable A3 Brand Award (Canon). To receive this award, twenty-three Canon A3 MFPs underwent reliability and usage testing for several years. During that time, it was reported that there were only six misfeeds out of 4.45 million pages produced (PRNewsWire).
For their excellence in reliability, Canon was awarded the above-mentioned award, as well as the BLI 2022 A3 Line of The Year award for the fifth time in a seven year period (Canon).
 
What makes a Canon printer so reliable in the first place? For a start, the way that they're built! 



Reliable Technology that Can Be Trusted
Finding a device that will get the job done efficiently and without errors might sound like an impossible feat, but Canon makes these hopes a reality. Their reliable printers help teams avoid frustrating paper-jams and time-wasting errors. Canon technology has become synonymous with the word reliability, from their minimal misfeeds to their sturdy designs.
 
The imageRUNNER ADVANCE DX series is especially durable, with sleek exteriors and stable frames. Watch the video to learn more:

On top of the trusted design, Canon devices will also bring you top-quality prints. Their printers are able to manage quick paper outputs for offices of any size and can be trusted to do so without errors. Canon makes daily tasks easier and supports the collaborative and productive efforts of your team. 
Colorful Printing that Makes a Statement
Among the many perks of owning a Canon printer is the quality, colorful prints they can produce. As a company that was first and foremost involved in the photography industry, Canon knows how important vivid images are. They value creating prints that stand out, whether its marketing materials or graphs that you're creating for an upcoming sales pitch.
Colorful prints can help to draw in more customers to your business. If they read a poster or engage with marketing that has pops of color, people are 42% more likely to read it than they would if it was grayscale (Canon). This also means that in your own meetings, using colorful handouts for your team and investors is more likely to yield positive engagement.
Did you know that colorful images can help influence memory and encourage quicker learning?


Warm toned colors especially can help with the recall process (Khan and Liu, 2020). Incorporating more colors into your workplace prints can thus make a positive impact on your team's retention. If you're wanting your team to learn something new or remember important details, having a trusty color printer there to support these efforts is essential.
If you're wanting higher quality color prints, remember too that inkjet printers tend to produce better results. You can learn more about the differences between inkjet and laser printers here!

Looking to Find the Perfect Canon Printer for Your Business?
Our team at NECS is prepared to match you up with the best device for your office's needs. Our print experts have worked closely over the years with Canon printers, and we understand the ins and outs of these devices well. 



Have questions about what printer is right for you?

Contact us

today to learn more.