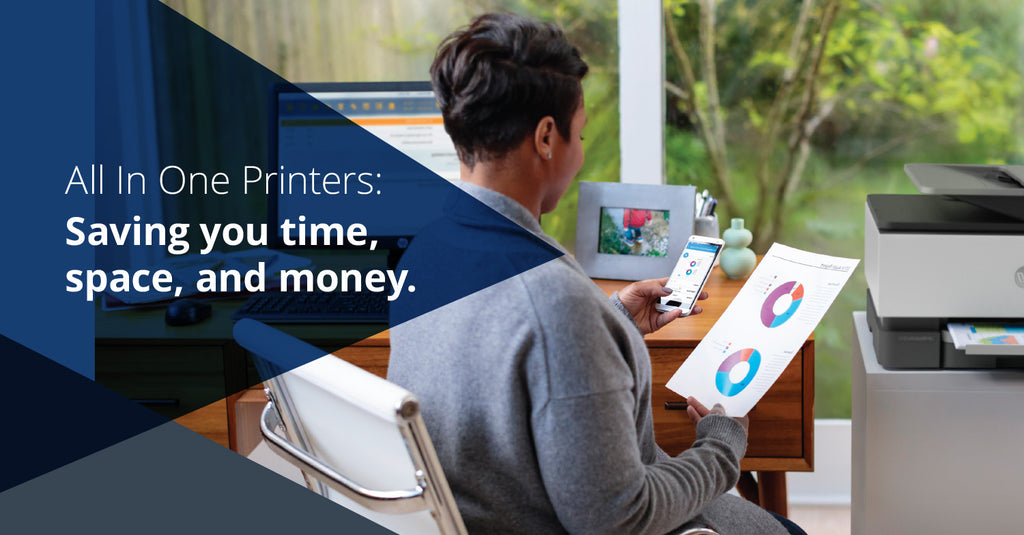 All In One Printers Could be the Solution for Hybrid Working
March 04, 2022 | NECS
Hybrid working environments are here, and they're not as bad as people feared. Main concerns for hybrid working have mostly been put to rest, with attitudes on productivity and collaboration remaining positive while working from home. According to BCG, during the first few months of the global pandemic 75% of employees said that they'd been able to maintain or improve their productivity on their individual tasks, and 51% said they've been able to maintain or improve productivity on collaborative tasks (BCG, 2020).
While the new arrangements are positive examples of our evolutionary strides in the workplace, they do present new challenges. Splitting time between the office and home has become normal, with companies and employees alike seeing the benefits (WeForum, 2021) but these changes bring new questions. Most notable of which is: what does this mean for our office spaces?
Office spaces are changing from big corporate buildings full to the brim with desks, to smaller co-working spaces meant to accommodate the revolving nature of employees spending half their time at home and half their time in-office. One example of this kind of downsizing is Adtrak, who once had 120 desks, but downsized to 70 in office while still retaining their workforce (BBC, 2021).
These changes are becoming more common, and while companies aren't cutting back on employing new staff, they are rearranging the office. 
This means smaller office spaces for an equal, or sometimes even larger, number of employees.
So, how is technology going to fit into all this?
Computers, phones, and tablets allow us to stay connected in our office without taking up too much room. Most people use their laptops and cellphones for work, no longer requiring bulky space-wasting setups at desks. But one place of concern is with our printing devices.
Printers come in many sizes, ranging from small at-home devices to large machines meant to accommodate high-volume printing needs. And it doesn't stop there; fax machines, copy machines, and scanners can all take up space.
For some offices it's important to keep all these devices separate, especially if there's many employees using them all at once.
But what about with hybrid working or home-offices?
This doesn't have to be the case. You can save space by finding the right printing solutions.
Choosing a device for hybrid working can be overwhelming. There are so many options out there now that it can be difficult to figure out which will be ideal. It's especially hard to decide what system to choose when you don't know what functionalities you might need later down the road. That's why choosing a multifunction printer (aka an all in one printer) is the best decision.


Space Saving with All In One Printers
All in one printers offer the flexibility and savings that small offices or home-offices require. To start, these compact devices allow users to save on space. When working in smaller offices this is a big bonus! You don't want to waste the precious space you have on bulky machines. That's why these smaller, yet still powerful and convenient devices, are the best options.
Being Prepared
After reading over the previous point, you might be wondering: why not just get a simple printer, one that's small just like an all in one, but without all the other features? 
Because you never know when needs might change.
Just as our office spaces are changing, so too are our needs. This can happen at any moment, and it's better to be over-prepared than not ready at all. 
While you might think that right now the only thing needed when working at home or in a smaller office is print functionality, this could change. You might suddenly realize that your team needs to make photocopies, or scan documents. And on the off chance that they need to fax something, you don't have to worry. With an all in one printer, it's all right there!
Hybrid working offers so much flexibility, but to keep it working smoothly it requires preparedness on the part of its employees. That's why ensuring you have a device with all possible functions you could need is important.
Multifunctional Printers Save You Money
It's not just about saving space and being prepared either. 
It's also about saving money.
These devices have all functionalities in one, which means cutting costs on device purchases. It also uses less power. With all the functions in one system, it will mean drawing less power to many devices, and instead saving money by using power for only one source.
These smaller, more convenient options also allow customers to save when it comes to their watt usage.
Typically, office printers on average will consume "a lot more energy" (The Home Hacks). These larger devices use anywhere from 300 to 1000 watts when printing (Free Printer Support). In comparison, smaller home office printers will consume significantly less, with numbers ranging from 30 to 550 watts in usage (Free Printer Support). Watt usage goes on to impact how much money you're spending a year on power. A smaller device thus equals smaller costs, which equals bigger savings for you and the environment.
All of your requirements, such as maintenance and warranty costs, are also reduced.
With only one device, there can be massive savings down the line when it comes time for maintenance. You also only have to worry about ensuring one warranty is up-to-date instead of trying to keep track of a whole bunch of devices' warranties.
All In One Printers Save Time
Instead of running back and forth between devices, piling in papers for multiple pieces of equipment, or worrying about sorting papers after, these multifunctional printers are able to handle all needs right then and there.
These all in one printers can have options allowing for:
Printing

Photocopying

Scanning

Faxing

Automatically stapling papers


Using one device makes it easier to complete tasks so you can focus on more engaging work. This can be especially helpful with hybrid working because less time spent running between devices means more time collaborating with co-workers who might not be in office.
It also gives flexibility to the person working from home who will have everything at their fingertips. They won't have to worry about waiting to get scanning or copying done in-office, but rather they'll have the freedom to do everything from their desk at home.
An Update in Workspaces Calls for Updated Technology
Many modern all in one printers now have better network features, which are essential for hybrid working. These features allow you to connect your laptops, phones, and tablets to the printer. This allows you to print from any of your devices, anywhere!
If you or a colleague are working from home, while another is in the office, you can have your devices connected through the cloud to continue printing from wherever you are. It keeps people connected, no matter where they're working from. Network features can improve productivity and maintain good collaboration between employees.
Just keep in mind that your devices should be secure, so always be mindful when using network features. We've talked about security measures you can take, and the most secure devices to use, in our previous blog.
Choose All In One Printers
The benefits of an all in one printer are clear. These multifunctional devices help companies and employees with:
Cutting costs

Saving on space

Improving collaboration in hybrid working

Saving time
Don't fall behind on the times. Hybrid working is our new future. Keep up to date with the latest technology to ensure your employees stay connected from anywhere.
Contact us and let's find you the right all in one printer today.