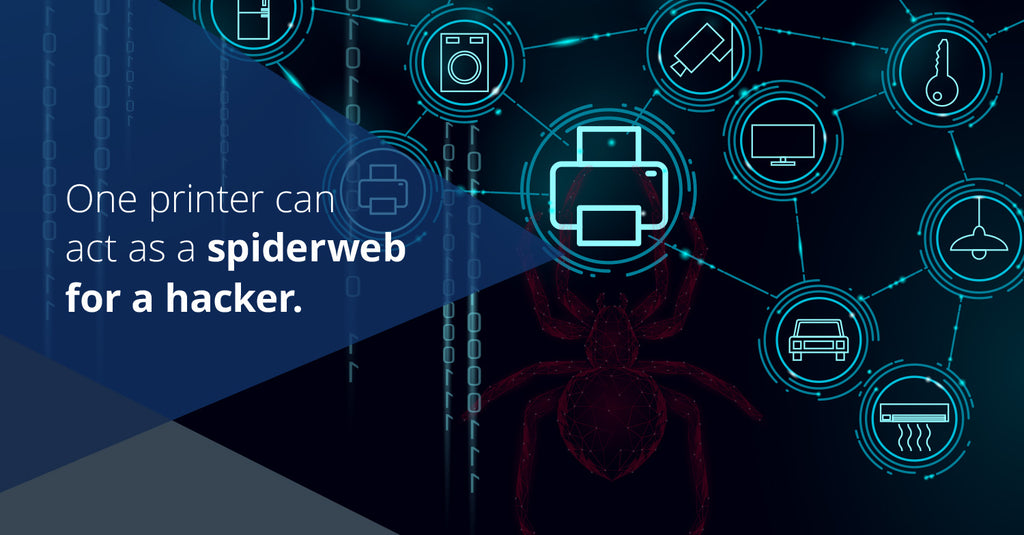 Printers Are the Unlocked Backdoor to Your Data
February 17, 2022 | NECS

Print devices are an overlooked network security risk, and without a secure printer you're in serious danger of experiencing a devastating cyberattack. While people are more aware than ever these days about taking safety measures to protect their computers, there's less concern about their printer's security.
The harsh reality is that cyber criminals take advantage of this gap in knowledge.
To keep up with the changing technological landscape, companies and their employees are investing in up-to-date devices. Printers especially are a tool necessary for many office tasks.
With the evolved workplace seeing employees scattered between the office and beyond, many printers can now connect to the cloud. This allows employees access to print from anywhere and from any device.
Yet these highly advanced pieces of technology are still being treated like older models.
Cyber criminals prey on this outdated mindset, and a cyberattack can cause lasting consequences for their victims.
Not only are these attacks overwhelming and costly, but they're also far-reaching. One printer can act as a spiderweb for a hacker, ensnaring connections to all other devices linked to the cloud in its web.
Staying vigilant about printer security should be everyone's top priority right now. But that begs the question, "Where do I even start?"
Knowing the facts, understanding what security measures to implement, and finding the right devices are vital steps in safeguarding your valuable information. 


Unsecured Printers Lead to Mass Data Casualties:
One of the most terrifying things about experiencing a printer-related breach is that it can go on to infect every device in the office.
In the modern workplace, most technology is connected to the network. This means that one unprotected device acts as an unlocked backdoor to all others. This reality is not going unnoticed by hackers.
To keep people safe, companies like HP have been trying to help people realize the severity of this situation.
During an interview, Shivaun Albright,
Chief Technologist of Print Security for HP Inc., told
Forbes
that printers have increased in both their storage and processing power. "However," he said, "we haven't reached awareness to secure print devices, and all the good security practices that are employed to protect other devices are not being deployed with consistency to printers" (
Forbes
, 2018).


Technology is a tool utilized not only at work, but also in our day-to-day lives. As a result, phones and laptops linked to the network in the office can lead to the vicious spread of security breaches at home.
Private company data for customers, employees, and even your own personal data is at risk. A cyberattack originating at work can go on to impact every aspect of a person's life. Passwords, banking information, home addresses and more are all at a cyber criminal's fingertips.  

Know the Facts:
• According to Forbes, Cybersecurity Ventures reported that every 39 seconds there's a new hacker attack (Forbes, 2018). The risk of experiencing an attack increases then not just every day, but every second.

• Breaches like this can be costly, both to companies and to individuals. NuData Security found that over the span of six years, identity thieves alone had stolen $122 billion.

• A report released from Quocirca found that 59% of surveyed businesses reported a print-related data loss in 2019, with the average cost of such a loss being $394k (Quocirca, 2019).

• Another report found that in 2021 breaches due to cyberattacks would cost companies across the globe $6 trillion to fix (Techjury, 2022).   
So, how can people combat the rising ranks of cyber criminals?
Coming up with better security measures and updating outdated print-technology are two steps to ensuring better network safety.






Security Measures to Protect Printers, Networks, And You: 
In 2020, the company CyberNews performed an experiment where they hijacked close to 28,000 printers (CyberNews, 2020). The goal of the experiment was to show people just how easy it was for hackers to take them over. While the company only accessed the printers to send detailed instructions on how to secure them, the experiment still proved just how overlooked printer security is.


If that's not enough of a shock to start implementing safer practices, maybe this will be:
• 
CyberNews accessed almost 28,000 printers, but over 800,000 printers with network features came up in their initial search.
• 
Of those 800,000 printers, they estimated that they
could
have targeted 500,000 (
CyberNews, 2020
).
To ensure that your printer is secure, it's time to implement some safety measures.
1. If you're not using it, consider turning off your printer's network options.
• 
Turn off the wifi button on the printer itself.
• 
Go into your printer's settings on the control panel and turn off the wifi from there.
2. Turn off your printer when it's not in use.
3. Update your printer frequently.
• 
Printer manufacturers are good about updating their firmware to protect against threats. To get the best protection, you should make sure to update your printer frequently.
• 
Consider setting up monthly reminders for the office to help encourage people to check the printer for updates.
4. Set a stronger password.
• 
Make sure that you've set up a password for your printer, and that you aren't still using the default.
• 
Choosing a password that's in the form of a phrase, adding numbers, and special characters are ways to keep a password strong.
Most importantly, pick a printer that's right for you.
An outdated printer is at risk of becoming easy pickings for cyber criminals. Older printers may no longer have access to the latest updates and their security features can quickly fall behind.




So now the next step is to determine what the best secure printer out there is. Luckily, we've got you covered there.


HP Printers Are the Most Secure:
Leading technology brands like HP recognize the very real threat of experiencing a cyberattack. They understand that printers are especially vulnerable and have ensured that these devices have sophisticated technology with updated security features.
HP devices have multi-layered defenses and offer users some of the world's most secure printing.
• 
HP Enterprise printers feature embedded security technology that self-heals from attacks by automatically triggering a reboot.
• 
If a threat
is
detected, they protect the BIOS from being compromised by allowing HP Sure Start to restart the printer using a safe "golden copy" of the BIOS.
• 
They protect the firmware by ensuring it is digitally signed by HP.
• And HP Cartridges also come with built-in security using tamper-resistant chips, firmware, and packaging. 


HP offers a wide variety of printers that can be used at home-offices or in office buildings. From the HP Envy series to the HP OfficeJet Pro, their selection seeks to meet the needs of their users and to promote a more printer-savvy world.
Don't let cyber criminals take advantage of you. Let us help keep you safe with our list of secure printing technology.