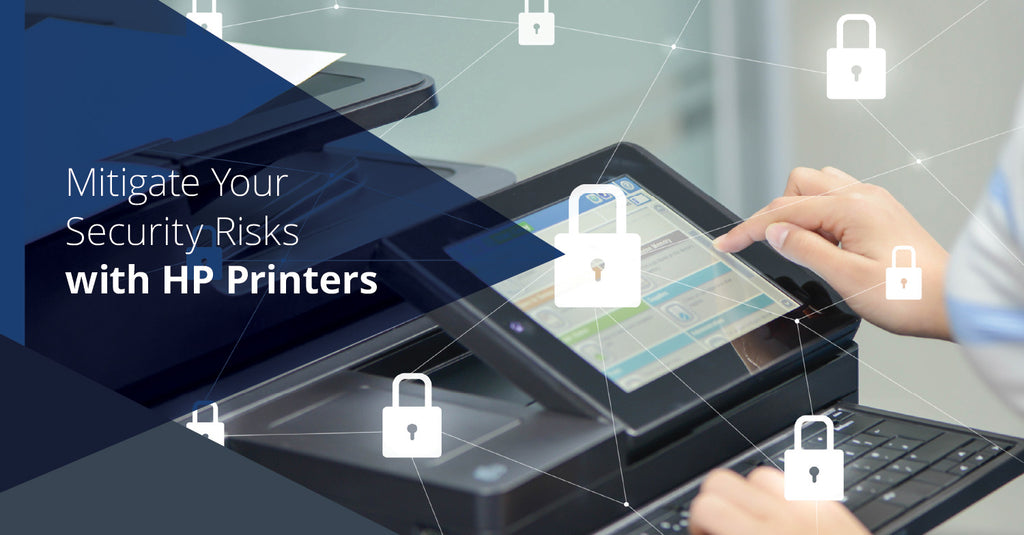 Get the Best Print Security with HP
July 19, 2023 | NECS
Choosing a secure printer is more relevant now than it ever was. In the age of cloud computing, we're all connected through one device or another. What few know is that all the doors to your technology houses are open. Companies are vulnerable each passing second to a new threat.
At the start of 2020, the FBI reported that there was an increase in cyberattacks by 400% (HP). As shocking as the statistic is, it's not hard to see why. With each year, as technology gets more advanced, the threats become larger and more frequent. Companies are constantly staring down the barrel of impending cyberattacks because of how tightly woven together our daily technology practices are. Our phones send messages to our tablets, which can then connect to televisions. We can then connect televisions to our computers, which later connect to our office's printers.  
It doesn't take much for a cybercriminal to sneak their way in. One of the easiest routes for cybercriminals to access is our endpoint devices. 91% of IT decision makers agree that "endpoint security has become as important as network security." (HP)
Cybercriminals know this, and they're able to easily prey on the most vulnerable endpoint devices in your company's network chain. Your printers.
A previous blog of ours explored the network security risks that users face when their printer isn't properly secured. We walked companies through the steps of how to secure their network and highlighted the worrying statistics on cyberthreats. From there we showcased HP printers, some of the most secure printers that are currently available on the market.
With security measures that are unmatched, HP printers could be the right choice for your print fleet.
Network Security and HP Printers
In the world of print, the words security and HP are practically synonymous. With the realization that our data was vulnerable, HP started to develop stronger solutions that would defend companies' devices from cyberattacks.
In the hierarchy of devices, printers tend to be placed at the lowest rung of the security chain. All they do is print, right? Wrong. Printers connect all your devices together, pulling them into a tightly-knit web and acting as a hotspot for cyberattacks.
The company CyberNews proved this when they hijacked almost 28,000 printers (CyberNews, 2020). In doing so, they showed just how vulnerable companies are. One innocent mistake like forgetting to secure a printer could lead to a tidal wave of attacks.
HP is hyper-aware of this reality. They also understand that it can be strenuous on your IT personnel to keep turning their focus over to your company's print fleet. To resolve this, HP printers come equipped with built-in safeguards that act as the front line of defence your company seriously needs.
HP Printers' Loyal Defenders
We all make mistakes. It's natural and acceptable. Unfortunately, tripping-up when it comes to securing your company's printers means dealing with expensive long-term effects. 
Sorting through corrupt files, having private data stolen, and being held digitally hostage until you pay a cybercriminal's steep price are all serious cyberattack concerns. Data breaches like these are costly. In fact, the entire cost of cyberattacks in 2022 was $6 trillion (Techjury, 2023). 
It's easy to feel at a loss about how you can protect your company. You can't just set up a chair in front of your company's printers and stare at them all day, waiting for an attack. But then, what can you do? 
Making smart printer purchases can solve a lot. HP boasts that their printers have "the industry's strongest security" (HP) and that they're ready to detect, protect, and recover from attacks. Looking over the printers' specs, it's not hard to see why.
Offering the only print devices with self-healing capabilities, HP printers outmatch their competitors' security solutions. HP printers come equipped with their own, unique armour. Their internal operating systems are layered in defences that serve to protect the printer itself, in turn keeping all your company's devices connected to it and any data sent for print secure. 
This means there's no need to monitor your system 24/7, stretching your IT staff thin and clogging up their days, because the printers can handle part of the burden themselves.
These pre-installed defences each have a name and a very specific purpose:
HP Sure Start:
Working behind the scenes, this system closely
checks over the printer's operating code
. A printer's BIOS is set-up to boot instructions that are used to load all the critical hardware components and initiate the firmware of your device. HP Sure Start
validates the integrity of the BIOS
during the power-up stage. If it detects that the version is compromised, the device will turn off and restart using a pre-installed "golden copy" of the BIOS.
Whitelisting:


As the HP Wolf videos have shown, exposed print firmware could lead to an attack on your entire network. To keep this from happening, whitelisting
ensures that the codes for your printer's functions, controls, and security haven't been infected
. Just like with HP Sure Start, the firmware is checked over during your printer's start-up.
If anything suspicious is detected, the printer reboots to a secure, offline state and sends notifications to IT.
HP Connection Inspector:


By closely monitoring your printer, this system
stops malware from "calling home" to malicious servers, stealing your data, and compromising your network
. To do this, HP Connection Inspector watches all outgoing network connections and figures out what's normal,
making note of anything suspicious
. If it detects a threat, the system will be triggered automatically to
reboot and self-heal.
Run-Time Intrusion Detection:


Like the white knight of the group, Run-Time Intrusion Detection
monitors the memory activity of the printer in real time
to fight off any attackers. This means that right when attacks occur, the system is there to detect and stop them. It's Common Criteria certified to
check for any kind of anomaly during more complex firmware and memory operations
. If an intruder is detected, Run-Time Intrusion Detection will
stop attackers before rebooting and healing itself 
(
HP
).
Make the Safe Choice with HP Printers
Protecting your company's data is important to us at NECS, that's why we work with HP to offer you safer printers. Working together toward a joint interest is our priority, and the last thing we would want is to see our customers struggling with cyberattacks.
Making the change and upgrading your print fleet to HP devices can free up time, potentially save you from paying cyberattack damages, and keeps your company's technology up to date with the latest in network security.
With a deep understanding of how HP printers operate, and a focus on seeing our customers thrive in their respective fields, NECS is dedicated to helping your company make the best choices for you and your employees.
To learn more about HP Printers, print security, or any technology purchase, please don't hesitate to
contact us
today.