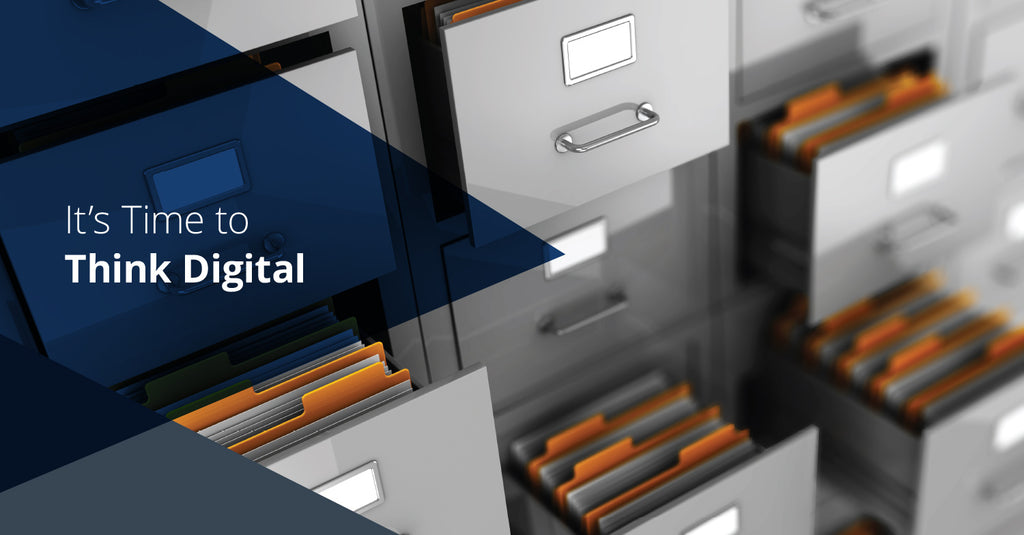 Free Up Space and Time When You Digitize
August 05, 2022 | NECS

A terrible hassle for admin personnel is paperwork. Enter any administration office and you'll find files scattered across desks, cluttering up workspaces. Not to mention that office spaces are all too often overcrowded by storage boxes, filing cabinets, and folders full of paper. Important documents get lost in the shuffle of daily tasks and offices end up feeling claustrophobic instead of welcoming.
This is one of many reasons why organizations are transferring their documents over from paper to digital. Digitizing files frees up a lot of space in your office, boosts your ability to focus, and encourages secure and sustainable practices in the workplace.
The flow of productivity in our offices begins at the administrative level. Ensuring that documents are organized and readily accessible is at the heart of every task we perform.

That's why it's important to choose an optimal document digitization software. It will benefit your team long term as you continue to navigate daily and upcoming tasks.
NECS has united with ScanOptics in a strategic alliance to provide you with top-quality digitization software. We want to help your team realize their truest potential and achieve your goals. 
But don't just take our word for it!
Digitization Leads to Organization:

Just like we mentioned earlier, one of the greatest downfalls of paper documents is clutter. A messy desk, overflowing with papers, isn't beneficial to your team in the slightest. Clunky boxes and cumbersome cabinets mean less space for your team to freely move around in the office, which limits teamwork.
ScanOptics digital files are kept in one place. Every file that's important for your team's daily tasks are available on their computers. This not only frees up the space in a single individual's office but can lead to freeing up whole rooms!

To store paper documents, filing cabinets are a necessity. An unfortunate one. These pieces of furniture dominate office spaces.

Being that they're often bulky, filing cabinets will be stored in one or two (or more!) rooms. Whole spaces in office buildings are devoted to storage. Those are rooms that could be used in better ways for your team.


When you choose to digitally store documents, you're freeing your team from the burden of filing cabinets. You're
creating new spaces
that can be used as boardrooms or personal offices instead. 
And that's just one of the benefits of digitizing your files!



Digital Documents Free Up Time:

Not only does choosing document digitization free up office space, but it also gives employees more time in their day. 
Finding a paper file takes several steps––first, you must locate the file. This can mean going to a coworker to ask where they saw it last or going to the filing cabinets themselves. Next, you have to sort through all those paper documents to find the exact file you need. Then, you return to your desk and complete the task. Once that's done, papers must be securely returned to the appropriate storage. 
It might seem silly to consider grabbing a piece of paper as "time wasting," but that's exactly what it is.
 
On average, each member of your team will spend approximately

1.8 hours per day looking for documents

(

McKinsey

). That's over

nine hours a week per team member

.

When you digitize files, each member of your team will be looking in one location. It might take 1.8 hours to find a paper file––but it only takes seconds to find the right digital file you need. 
Type, enter, search, found. It's as simple as that.
Digitizing also benefits employees who work remotely. Instead of having to wait for when they've returned to the office to access files, they can now quickly search for them and use them wherever they are.
Optimal Digital Integration:

Transferring data from paper to a digital filing system can seem like a lengthy, burdensome project. It might be that your team has put it off for a while, and that it now seems too daunting to even consider. We at NECS completely understand!
When you choose to digitize, you'll want your team to continue performing tasks with minimal disruption. That's why NECS has strategically aligned with ScanOptics, who value our customers' time just as much as we do.
The digitizing process can be quick and painless. You'll have your files ready for use in no time and reap the rewards much sooner than you anticipate!


ScanOptics has an expedient four-step process to digitizing files:


Physical documents are picked up from your premises and scanned by the ScanOptics team.





ScanOptics' AI-powered system, easy.forward, reads through your documents while

simultaneously

indexing them.





Data is carefully verified for accuracy.





Digital documents are then fully integrated and ready for use!




ScanOptics digitization experts have immense experience understanding business processes, data flow and unique pain points across various industries. They use their knowledge to determine how best to convert processes efficiently and effectively to data flows.
By using ScanOptics, you'll enable your team to perform better while alleviating stress.
Want to learn more about ScanOptics and how digitizing your files benefits your team? Contact us today!