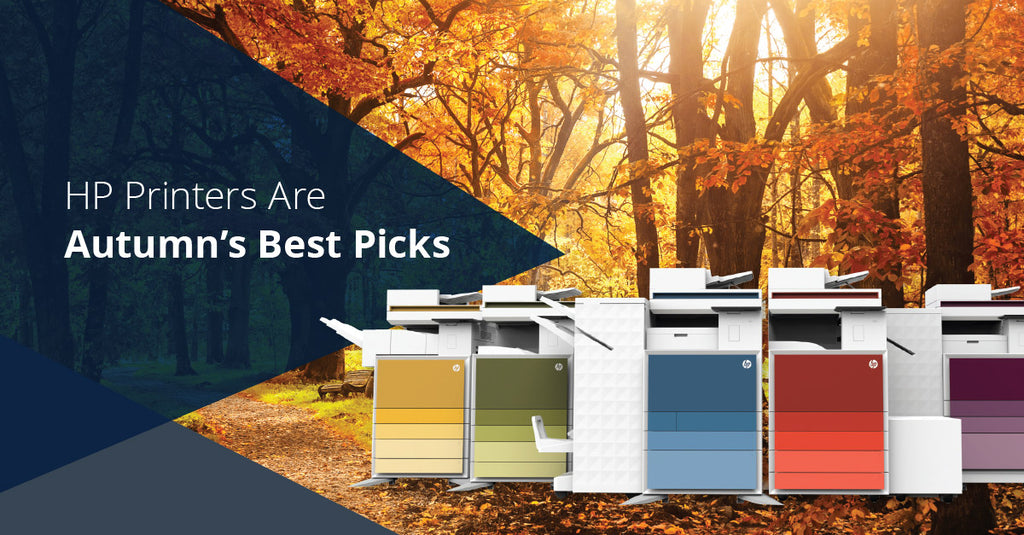 Why Choose An HP Printer
October 13, 2022 | NECS
The fall is here, the air is crisp, and HP has released a fresh batch of printers to start the season right! Their latest LaserJet MFPs (which you can view here) once again prove that HP is a trusted brand for a reason. Whether you're a large company or a small start-up business, HP's printers have all the right features you need. It's their attention to detail, versatility, and security that really make these printers ideal for anyone.
While we're here to tell you that HP is one of the best, you might be wondering what makes their printers the right choice. And that's an excellent question! Luckily, we have the answers for you.
It's essential when buying a new printer that you research and understand the brand you're looking at. There are a few key elements you should look at, including:


Security
Reliability
Speed
Connectivity
Sustainability

Whether you're buying your first office printer or trying to decide if it's time for an upgrade, our research on why HP is the right choice can help!


Get the Security You Need
The rate of cyberattacks continues to skyrocket. In 2020 alone, the FBI had reported that there was an increase in cyberattacks by 400% (HP). One of the possible factors for this increase is a lack of understanding about print security. While most people have at least some knowledge on how to protect their organization from a cybersecurity attack, one frequently overlooked area is print security. 
Did you know that your printer can leave your company vulnerable to attacks? That's why it's important that you get a secure printer, like the ones HP creates.
There's a reason that HP devices are trusted by so many. They come with multi-layered defences, which helps create one of the most secure printing experiences for users.
One unique feature of HP devices is HP Sure Start, which validates the integrity of the BIOS during the power-up stage and restarts with a pre-installed "golden copy" if corruption is detected. HP printers are able to "self-heal" with their HP Connection Inspector and can send notifications to your IT team.
With all these features and more, your private information has a better chance of staying safe.

Fast Printing For Your Workplace
If you're looking for a fast printer that can get the job done, then HP printers are the perfect choice. HP has several printer options available to you, including printers that can fit in snug home offices or models that are able to manage the paper output requirements for a larger organization. 
In both instances, you'll want a printer that can handle fast paper output without risking a paper-jam or multi-feed error. The new HP E800 series has reverse and retry technology, which will automatically detect a multi-feed error and resolve it itself. This latest addition to HP's print technology will no doubt help decrease unwanted downtime and improve your overall productivity.
 
Stay Connected While You Work
Whether you're working from home or in the office, one of the most important features a printer needs to have is cloud connectivity. Since so many offices are now opting for a remote or hybrid work option for employees, cloud features on printers are becoming something of a requirement. Not only does the cloud make it faster for you to send your documents off to print, but it also means you can collaborate with others in and out of the office.
To help you manage these aspects of your day-to-day business, HP has several all-in-one solutions. These devices come equipped with the latest in cloud connectivity, network features, copying, scanning, and security.
What's more, HP's new E700 series gives users the option to upgrade their technology to the latest features right onto their device. With HP FutureSmart Firmware your printer can install new digital features without having to physically upgrade your device. Your device will stay up-to-date and keep your team connected for years to come.
HP printers have upgraded cloud features on their new MFP devices to support hybrid workplaces. Team members will be able to send print jobs off to colleagues in the office, and vice-versa. Using the cloud features on your printer will allow you to collaborate on a project with out-of-office teammates and optimize your internal workflows.
 
Meet Your Sustainability Goals with HP
If you're looking to make an upgrade to your office's printer while meeting your organization's sustainability goals, then you should consider investing in an HP printer. In their 2021 report about their climate action goals, HP stated that it is working towards becoming the world's most "sustainable and just technology company by 2030" (HP).
More and more companies are starting to be socially and environmentally conscious. They're looking to buy their technology from trustworthy, sustainable companies. And rightfully so! HP released their sustainable action plan in 2021 with promises to focus on three major areas: climate action, human rights, and digital equity.


To meet these goals, HP has developed a plan to:


Ensure suppliers representing them undergo social and environmental assessments.

Support education programs that help marginalized and vulnerable communities.

Reduce unnecessary waste by maintaining, upgrading, repairing, and working with service-based business models to achieve 75% circularity for their products and packaging (

HP

).


Creating sustainability goals within your own company can start with a review of your current technology. Choosing products from companies that clearly outline and share their sustainability plans can be the first step in minimizing your carbon footprint and maximizing your company's social consciousness. HP is transparent about both their current goals and future goals for bettering our world. Their global sustainability report shares an insightful and meaningful reflection on what they can do as a company to better our world.  


Now is The Time to Upgrade
With the latest release of HP's new LaserJet MFPs, now is a great time to upgrade your office's printer. You'll be getting technology from a trusted, secure, and sustainable brand that actively puts their customers' needs first.  
If you're looking to make the change to HP today but aren't sure where to start, our representatives will be happy to work with you to choose the right device. NECS is also excited to announce that we have stock available on the new E700 and E800 series printers.
If you're ready to upgrade your device,

contact us

 today

.